A new exhibition at Dunedin Public Art Gallery celebrates the style of Margarita Robertson -- creative director of NOM*d, owner of Plume boutiques and Dunedin style icon -- with a display of 12 looks drawn from her personal wardrobe.
As a buyer and designer, Robertson has for 33 years played a large part in choosing what well-dressed men and women in the South Island wear.
However, this exhibition -- titled Margarita Robertson: 3.33.12 -- focuses on a selection of the fashion choices she has made for herself.
It incorporates footage of thecities that influenced these choices and the fashion collections that many of the garments and accessories were selected from.
The pieces on display in this collaboration between the gallery and Robertson range from intellectual designers such as Comme Des Garcons, Yohji Yamamoto, Rick Owens, Ann Demeulemeester and Martin Margiela to the more playful and creative Jean Paul Gaultier.
New Zealand design house Zambesi also features, as does Robertson's own label, NOM*d.
Although much has been written about NOM*d and its encapsulation of the 'Dunedin look', this exhibition -- co-curated by the gallery's Tim Pollock -- approaches Robertson's aesthetic in a different manner.
It explores her own sense of style and gives the visitor an opportunity to see how this has changed over time.
Although it does not present looks that represent the whims and trends of seasonal fashion, iconic garments from specific fashion moments will be a high point.
Margiela's extraordinary 'flat' collection -- originally presented on life-sized, walking marionettes -- is represented in a black sleeveless Mongolian lamb coat.
A Comme Des Garcons calico look from spring/summer 1983 -- one of the first collections which drew the attention of body-conscious Westerners to Japanese fashion -- is also shown.
One thing that becomes very clear when viewing this exhibition is Robertson's remarkable ability to 'be there' when major fashion moments occur -- the revolutionary early Comme des Garcons collections to the joyous and celebratory presentations by Jean Paul Gaultier; from Margiela's fashion-show-meets-art-happenings to Rick Owens' extraordinary performance pieces. More recent are Vetements' edgy and uber-cool collections.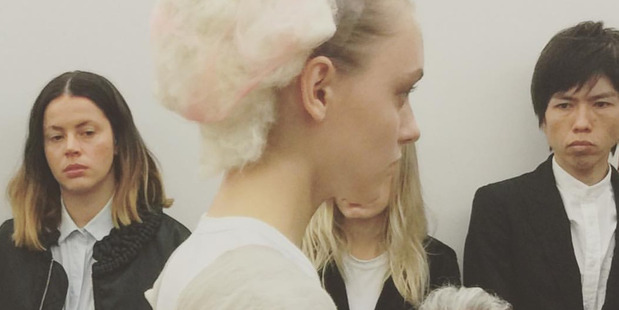 The footage depicting a number of these fashion moments is a compelling aspect of the installation.
It is rare to view, in their entirety, the fashion shows and films from which many of the pieces were originally selected; particularly to see them close to the garments themselves.
Usually these films -- especially those made before digital productions and the internet -- were viewed only by those invited to the collections.
As well as adding context to the items on display, they make extraordinary viewing as they are projected on mounds of icy 'snow' beneath the mannequins.
The installation also features multimedia displays depicting elements of three cities that have been an inspiration to Robertson in her working and private life: Paris, Tokyo and Dunedin.
This footage creates an over-sized backdrop to the exhibition and was, in part, created especially by film-makers Max Bellamy, Richard Shaw and Laurent Soler.
While all three films create a strong impression of the cities, none approach their topic in a traditional way and they are markedly different from one another.
The film depicting Paris is shot from a train as it loops its way around the French capital.
Tokyo is filmed largely at shoe level, as many hundreds of thousands of the city's inhabitants rush through the city centre.
Dunedin is approached in a quiet and poetic manner -- offering tranquil street-scapes and moody vistas in marked contrast to the fast-paced life depicted in the other cities.
To complete the experience, a sound-scape has been designed to recreate the mood of attending an international fashion show.
Drawn from recordings made at many fashion shows and events, this will give the viewer a taste of life both backstage and front row on the fashion circuit.
The exhibition promises visitors insights into "3 cities, 33 years and 12 looks" from the wardrobe of Margarita Robertson.
Margarita Robertson: 3.33.12
March 18-April 17, 2016
Dunedin Public Art Gallery